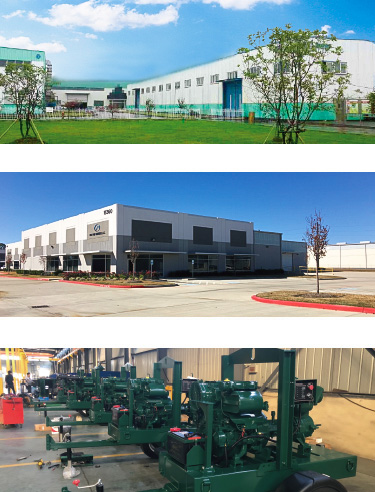 Amos fluid technology is an international, specialized and technical oriented fluid equipment manufactuer. Company's prodution and global distribution center is located in Ningguo city, Anhui province of china, and its global r&d centre is based in houston, texas usa.
Amos was a professional centrifugal pump manufacturer who has designed and manufactured pumps as per the world three marjor standard i.e en733, iso2858, ansi b73.1 standard. Amos was constantly dedicated to develop the high-end european and amercan pump market in the past, and all our products were for oversea market. After over ten years' development, amos has gained advanced design, production and engineering technical capability in fluid equipment industry.   
Since year 2014, amos gradually changed our product r&d priority from single pumps to muti-functional, smart, modular and highly intergrated featured pumping equipment. Our main market focus was also switched from overseas to china domestic market. Amos successfully carried out a professional managers management system since year 2018. Senior management team have rich management expierence, advanced business phylosophy in the industry, international vision and strategic thinking mode which provided us strong intelligent supports and organization gurantee for the company's future sustainable development with the lead-in of professional managers system.
We are currently conducting our 3rd five-year-plan i.e amos 2018-2022 strategic plan. In china market, our key development market are city drainage, water environment, agricultural irrigation and commercial fire fighting. In amos, we carry on the flag of revitalization of the national industry, hold the value of integrity, creativity and responsibility, take the mission of becoming world leader of intelligent fluid equipment, and do all our best to make the dream of building a five star fluid equipment manufacturer become true..
DEVELOPMENT HISTORY
2004.12 Established M&C pumps and started from a leased 400 square meter workshop;


2005.7  Approved by ISO9001 Quality management system;


2006.7  Company moved to a leased 1000 square meter area factory;


2007.7  Company moved to the existing location and leased a 2600m2 workshop.


2008.4  Company shares reset and purchased partner's all 30% shares and became a 100% owner of M&C pumps.


2009.3  Marked out the 1st five year plan(2009-2013). In August, acquired the leased land and facility.


2010.9  Company expanded production facility and built an 5600 square meter new facility.


2011.9  Approval of the ISO14001 Environment Management Certification;


2012.11 Set up a JV company-DCMC thermal technology with DCI company of USA.


2013.9  Expanded the machining capabilities of and build another 6000 square meters new workshop.


2014.9  Founded North America Division - M&C PUMP AMERICAS in Houston, TX of USA in June.


2015.01 AMOS has won Provincial High-Tech Enterprise.


2016.03 AMOS has implemented Intelligence Pump Vechile Project.


2017.03 AMOS has successful achieved project acceptance.


2018.07 AMOS has changed its company name to AMOS Fluid Technology Co., Ltd.

DEVELOPMENT HISTORY
Contact US
Tel : +86-563-4186739 Fax :+86-563-4170880  E-mail : jake.mei@mcpumps.cn  Skype : jakemeihq1
Add : 108 West Outside Ring Road,Ningguo City,Anhui 242300,China