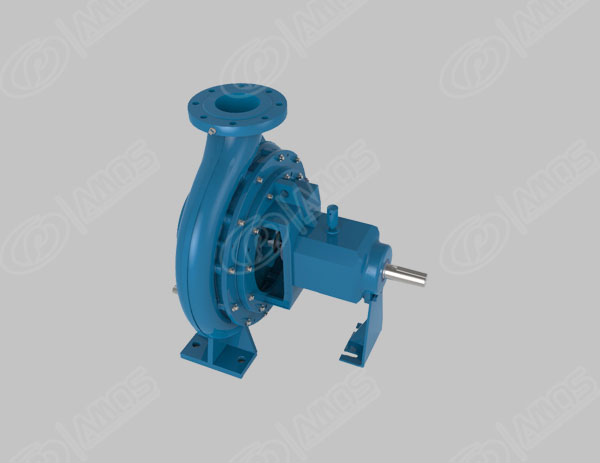 MCI series bareshaft end suction pump is single stage centrifugal pump, hydraulically balanced overhung impeller, simple volute casing, axial suction and radial discharge, for pumping clean or slightly polluted, cold or hot, chemically neutral or corrosive liquids.
MCI series bareshaft end suction pump is designed and manufactured according to ISO 2858 and ISO 5199 standards, enables the pump be interchangeable with other similar ISO 2858 and ISO 5199 standardized pumps. Modular design and high standardization of the common parts simplifies spare parts storage, improves pump stability and reduces the pump operation and maintenance cost.
This range of pump is versatile and reliable. Pumps are engineered for maximum operating efficiency and minimal energy consumption when pumping dirty liquids and mild abrasives. It is widely used in multiple industrial and municipal applications, especially used as chemical process pump.
Rugged volute with integral suction and discharge flanges and mounting feet. UNI2223-2229 PN 16 pipe flanges are used for standard construction. On request flanges can be drilled according to AS2129 Table E, UNI PN 25, ANSI 150 RF or other standards. Variable materials for selection according the specific application.
The enclosed impeller design incorporates double curvature vanes for higher efficiency. The entrance of the volute casing has dynamic positioning vanes that direct the flow to the impeller for increased efficiency while reducing net positive suction head (NPSH). Impeller trims can provide maximum flexibility for your specific application.
The back pull-out facility and the bolting to the base plate through the casing feet together with spacer coupling, allow an easy removal of the rotating parts without disturbing the alignment and without disconnecting pipes and motor. This is proven to reduce downtime whilst performing routing
Bearings are oil immersed/ bath lubricated or grease lubricated. Heavy duty SKF, NTN, NSK or approved equivalent, superior quality for reducing maintenance. Housed within removable bearing cap cover assembly, protected by a quality manufactured lip seal reducing grease of moisture or foreign matter.
Single, internal high quality or approval equivalent mechanical seal with carbon vs ceramic fitted as standard with other options such as silicone vs silicone or high temp also available. There are also External Mechanical Seal, Double Mechanical Seal, Single Cartridge Seal and Double Cartridge Seal for options.
Enlarged Shaft reduces shaft deflection. Standard in 420SS and 316SS as an option. Tapered and keyed shaft design allowing ease of removal in maintenance and positive locking whilst in operation.
Rigid wear ring fitted as standard, replaceable front and rear wear rings with optional materials,offering as a wear face instead of wearing the more expensive pump case and impeller. It is proven to reduce the cost and increases pump life cycle.
Bearing housing is robust and heavy duty, manufactured in high strength cast iron providing trouble free life cycle.
Applications Regional heating
General water supply
Air conditioning
Refrigeration plant
Industry
Fire fighting
Environmental Engineering

Tech Data Dis.charge Size:32-200MM
Capacity:Max 900M3/H
Head:Max150M
Media Temp:-25℃~+140℃
System Pressure:Max 16BAR

Designation MCI 50x32-160:
Imp dia is 160mm
Outlet is 32mm
Inlet is 50mm
Series code

Performance Chart